Iris prints or giclee are mechanical and not original artist made
prints. Most of the public do not know that.
I write the description Hand carved hand printed on my woodblock prints. If
something is one of a kind it is unique.
Good luck with the disputes.
Carol Lyons

David,

Thanks so much for sharing all those beautiful dragons. What a
marvelous set of new year greetings! I finished my dragon plate
yesterday, will print it next week. I can't wait to see my mail up
north, it will be stacked in our den and there will be may lovely new
year cards, wheeee.

Jennifer,

When accepting prints for your show that are not giclee why not simply
ask the person entering work if it is a relief print or an intalgio
print? If they say it is giclee, than it is NOT eligible. You could
ask that the artists bring along the plate the print was made from
when submitting entries. If you could arrange to exhibit the plate
with the print you could educate people. Or perhaps display some
plates in a case with a short definition of various relief and
intalgio plates, made by artists. Giclee prints are not made from an
artist created plate so if no plate exists the print is not eligible
for entry into the show, period.

Marilynn

There is no contest regarding the differential between Giclee reproductions and Hand Made images.

The artistic requirement.... the design (composition, colour harmony, perspective) is an equal challenge for both media.

HOWEVER.... there is no skills and knowledge required to us an inkjet printer. It is a push button operation.

With a Hand Made print the artist must have knowledge and skills to make a plate or matrix of the image and then the skill and knowledge of equipment to pull a print. As this is a hands on function no two prints are the same.... making it possible to call them an Original Prints in the true sense.

It use to be that the term Original Print meant that there were minor variations in each print therefore making them Original.
Giclee prints are exactly the same and therefore just facsimiles of each other.

I compare the two mediums this way.....
I like the warm fuzzy feeling I get when receiving a hand written note, this does not happen with an an e-mail.


Graham
www.woodblockart.ca

Many art festivals use some combination of these criteria:

If the final print was printed out of any type of photomechanical, laser,
ink jet printer, it is NOT a hand-pulled print. It can be considered a
reproduction or an original digital work, depending on how the image was
conceived. If the image was conceived as another work, such as a painting,
then the print is a reproduction. If the image was conceived and rendered
entirely through a computer, then it is either a digital painting (if OOAK)
or a digital print if multiples exist.

If any element of the final print such as background or contributing
elements were printed out of any type of printer as mentioned above, it
should be considered a mixed media print, rather than a hand-pulled print.

Hand-pulled prints can be produced with a hand printing instrument such as
spoon or baren or with a mechanical pressure device such as an etching or
platen press.
****

You still have those that will take a photocopy of a photograph or other
copied artwork and transfer on a solar or etching plate, manipulate the
image and produce a print from there. Nobody knows how to classify those and
they are very common now. Maybe also a mixed media print?

Some festivals now have a category for digital manipulated photography.
Sigh.

You should hear some of the arguments in the booths. Funny thing is,
customers just have ONE question: "has this been photoshopped?" if the
answer is anywhere near a "yes" they exit the booth.

I hope this helps?
Maria

[=o=][=o=][=o=][=o=]
www.1000woodcuts.com
www.artfestivalguide.info
[=o=][=o=][=o=][=o=]

Digest Appendix
Postings made on [Baren] members' blogs
over the past 24 hours ...
Subject: Arts of Japan series : case construction part 1
Posted by: Dave Bull
It's hard to believe that it was over two months ago that I posted on this Roundtable about the first sample cases I made for 'Arts of Japan' print series, but there it is ...
Things have been moving along in the background since then, and the 'idea' became concrete today, with the delivery of the first batch of timber for the job of making 200 cases: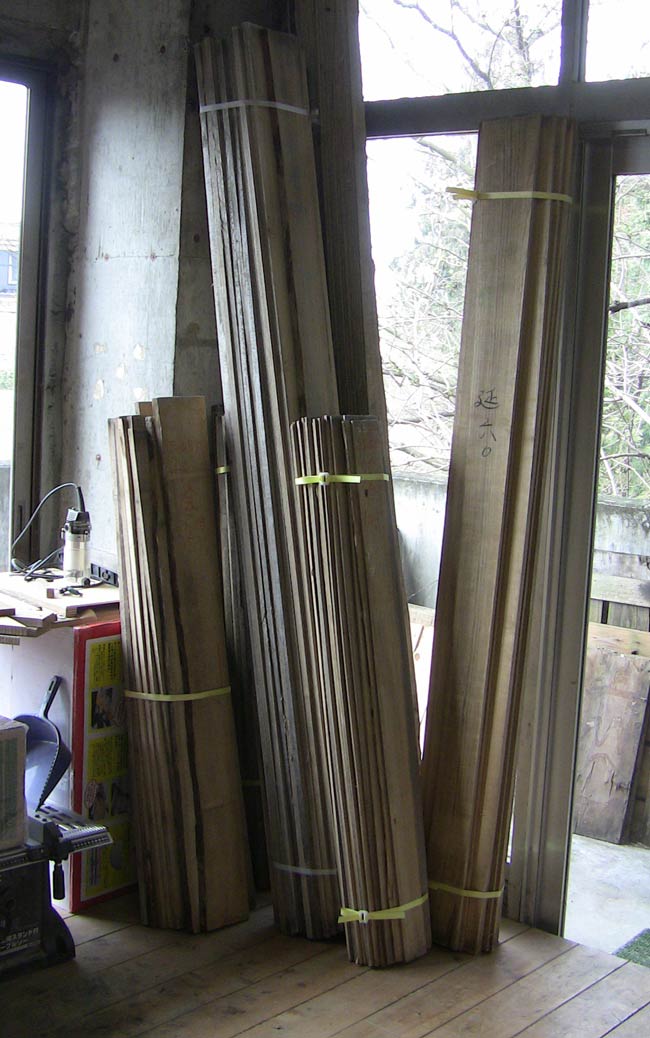 (entry continues here ...)
This item is taken from the blog Woodblock RoundTable.
'Reply' to Baren about this item.
Subject: Tulips ~ Tulipanes
Posted by: Diane Cutter
'Tulips' ~ 'Tulipanes'
Scratchboard
7"x5" ~ 17.5cm x 12cm
Spring is around the corner and I'm having a nostalgic fit for a Northern blooming of tulips, something we don't get down here in the Caribbean, so I've had to make my own. I find the drama of scratchboard work a nice break from my woodcut relief printmaking but notice that I'm still working monochromatically. It must be in the genes.
~~~~~~~~~~~~~~~~~~~~
Ya esta acercando la primavera y me siento una gran nostalgia por la floracimiento de tulipanes, algo que no vemos aqui en el Caribe, por eso he tenido que crearlo yo mismo. Encuentro el drama del medio de 'scratchboard' un buen descanso despues de tanto cortar madera para grabados pero se puede notar que todavia trabajo monocromatico. Debe ser parte de los genes mios.
This item is taken from the blog Diane Cutter Fine Art Blog.
'Reply' to Baren about this item.