For readers waiting for news about the knife set, please hang on a bit. While we wait for the first samples to arrive, both Sato-san and I have been tied up with other things - he's been very busy carving colour blocks for a Hokusai reproduction the Takumi workshop is making for a TV presentation, and I've been spending most of my time getting the plans for my own next subscription series finalized (watch for news on that front this coming weekend!).
While Sato-san and I are busy with these things, Tsushima-san is plugging away at her current batch of the Plum Blossom print. (She booked off sick yesterday and today though - she finally got hit by the flu that has really taken hold in this area recently. Many of the local schools are closed because of this, making the game centres very happy, I'm sure!)
But on Monday and Tuesday, before she got sick, there were four of us working here together, and while we worked we were discussing how we might change the way that Mokuhankan prints are being packed for shipping.
So far, I've been packing single prints like this: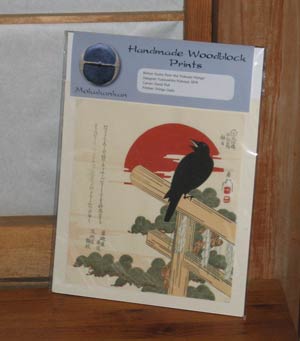 The problem though, is that with the print being mounted on a stiff paper/card support, inside a clear plastic envelope with a stiff 'title label', then going into a stiff cardboard type envelope, which needs another sheet of cardboard inside to stop it from being creased ... we end up with a postage cost of just over $9 ... And then - at the receiver's end - what do they do with the thing anyway? Frame the print and toss the packaging? Leave the print in the envelope?
Now my own subscription prints have no problem with either point - the postage is reasonable because of my custom packaging system, and there is of course no problem with how to 'use' the print, as I supply the storage/display case for them - but these single Mokuhankan items are 'failing' on both.
One place where Mokuhankan prints are OK (on both of these points) is the little Gift Prints. They are self-contained - need no framing, etc - and mail easily, cheaply and safely. So we were thinking about how we could gain those same advantages for other Mokuhankan single prints.
I'm sure that all the visitors to this site are familiar with the cases I use for my recent subscription prints. Here's the box for the just completed Mystique series:
Well suppose ... that it had a baby brother, available in the Mokuhankan shop:


[Long item has been trimmed at this point. The full blog entry can be viewed here]