Quiet weekend here ... nobody around; most of the time I'm working on the printing of the final issue in the Mystique series, and that should be finished later this evening.
But I'm also pushing ahead a little bit with the knife project, while waiting for the first shipment of blades to arrive. As I mentioned in a post last week, Sato-san and I decided to jump back in time a bit, and use the traditional method of fixing the blades in the handles - by tying them in place, rather than using brass sleeves.
I also mentioned that the traditional material to use for that job was shamisen strings. These are very strong, and have a serrated surface that makes them very resistant to coming undone. Here's one of my own chisels tied that way (you can see the 'step' in the handle where the old brass sleeve used to be, before I threw it away in frustration).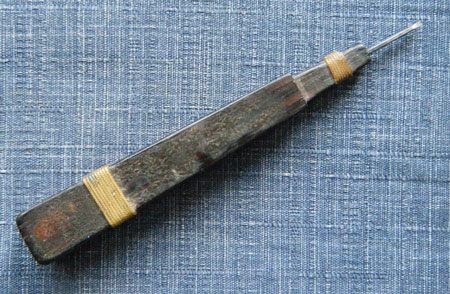 Here's a closeup (enlargeable):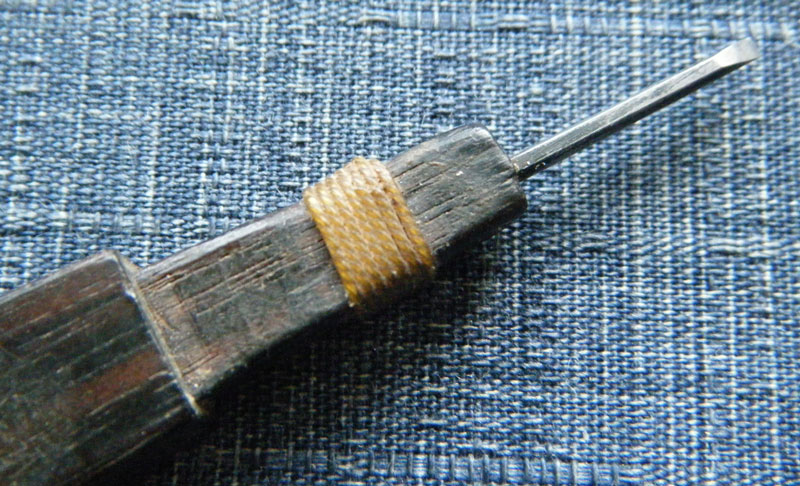 The problem with using shamisen strings is that they are quite expensive, being made from a blend of nylon and silk. But I remember a 'tip' I learned from the old carver Susumu Ito; he made a deal with a local shamisen teacher to get her discarded strings (and those from her pupils). Once a year or so, she would drop off a bag with all the tangled broken and used strings, and he would use these to tie his chisels.
It doesn't matter that the . . .
[Long item has been trimmed at this point. The full blog entry can be viewed here]