So far in these Conversations postings, I've been keeping you up to date with Tsushima-san's progress, but haven't said much about the second trainee here - Ishigami-san.
Partly this has been because she is basically doing the same sort of training work, simply a few 'rungs' further back on the ladder ... and how many images of the kagegami prints do you want to see?!
But over the past few sessions, it has become apparent that her built-in 'skill set' is different from the one that Tsushima-san has shown. For example, on Monday morning, I set her to work on making some copies of the famous Cat Bus image from the My Neighbour Totoro film: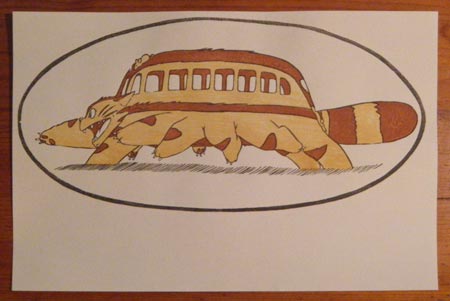 (Before you ask, I have to say that no, I'm sorry we can't let you have any of these ... we have no rights to use this image commercially, and this is just for our own internal training ...)
i think there were maybe seven or eight sheets in her stack; I can't remember exactly. I got her started, and then turned to work with Tsushima-san on her project, not expecting to have to think about Ishigami-san for a while.
I was wrong. Maybe around a half-hour later, a bit more I guess, I turned to check on her, and found that she was done. Finished. All three impressions, on all the sheets. And they weren't half bad! (That's one of them, above.)
This lady is fast! Now there is a price being paid for that speed, and it . . .
[Long item has been trimmed at this point. The full blog entry can be viewed here]