Today's postings
[Baren 44266] year of rabbit prints (Cucamongie # aol.com)
[Baren 44267] Re: year of rabbit prints (Diane Cutter)
[Baren 44268] Baren Member blogs: Update Notification (Blog Manager)
Hi folks, my bunny prints will be hopping forth mighty late this year, but
should be going out within the next couple of weeks or so.

If any of you have changed your address from how it is listed on the baren
year of the rabbit signup page, please shoot me an email with any
corrections.



many thanks!
Sarah

Sarah... Mine are also hopping around the studio. I'll tag onto your request for any address changes. Thanks...


Diane

www.DianeCutter.com
www.theitinerantartist.blogspot.com
www.DCutter.etsy.com


Digest Appendix
Postings made on [Baren] members' blogs
over the past 24 hours ...
Subject: Peony print ... progress ...
Posted by: Dave Bull
It's taken a very long time for Tsushima-san to get her batch of Peony prints done (with the change of seasons now under way, her kids are getting colds/fever frequently), but she finally got them finished this morning. Here she is, scanning the finished batch: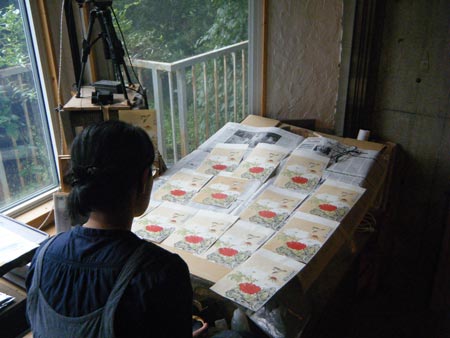 So, will I be putting them into the Mokuhankan catalogue this afternoon?
Unfortunately, that's not possible. Both she and I had expected that these would be acceptable, and in fact, I had the packaging prepared ready for them, but it's not going to happen ... this time around.
Let's take a closer look, to see where we are still 'short'. Here's a bit of the background: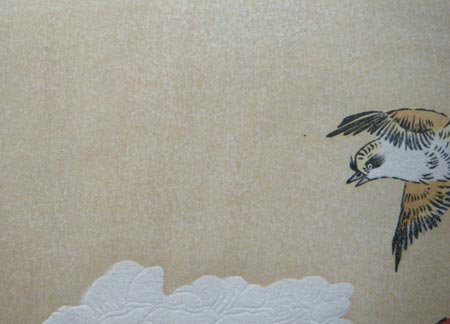 And in another copy, where she had tried to even out the colour by printing it twice:

[Long item has been trimmed at this point. The full blog entry can be viewed here]
This item is taken from the blog Mokuhankan Conversations.
'Reply' to Baren about this item.