Subject: Mystique Series #15 : carving ... and splash!
Posted by: Dave Bull
After a few days 'off' to catch up with other projects, carving resumed on Mystique #15 today. There are going to be a goodly number of impressions on this one, but to try and save wood as much as possible, I combined a number of the colour zones into groups - cutting more than one colour on each block.
Not quite sure how many there will be, but at the moment I have it down to ten 'faces', with I'm not sure how many actual colours.
And because the key block for this one was cut on a separate smaller block, unlike the 'double' blocks used for most of this series, the colour blocks can go down two-to-a-side, like this: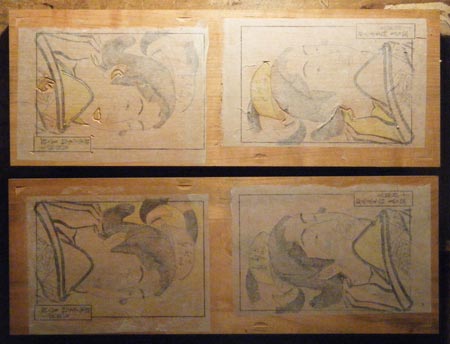 And now, a little sidetrack. Anybody watching the Webcam during this morning's carving session must have noticed something a bit strange. Dave mumbled something about feeling a bit 'hot', and then put his glasses down on the block and took a little break.

(entry continues here ...)
This item is taken from the blog Woodblock RoundTable.
'Reply' to Baren about this item.