OK, enough teasing ... let's see what the new bench is all about, and who it is for! Meet Mrs. Yasue Tsushima ...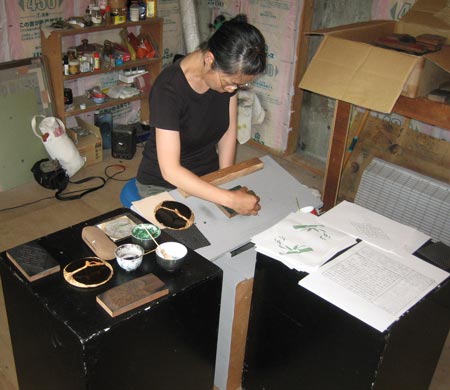 And, to immediately answer your obvious question - Is she the new 'apprentice'? - I think the answer is 'not really'; at least not in the sense that she is here to learn how to be a professional printer. At this point, we're not thinking that far ahead.
Yesterday I posted about a recent visit to the local beauty shop, where I had chatted with Abe-san the hairdresser about Mokuhankan. She is basically familiar with my work (and has a display set of my prints in her shop), and I bent her ear about not being able to find printers.
She listened to me, and we started talking about what was involved in the work ... how difficult was it? She paused in her cutting, and showed me some of the decorations in her shop. The place is full of ornamental 'knick-knacks': artificial flowers, origami displays, hand-woven baskets, etc. etc. These had all been made by local ladies, women sitting at home while their husband and kids are out. I'm not sure what the situation is like in other countries, but here in modern Japan, unemployment is at historical highs, and there is a surplus of labour everywhere. And with large numbers of graduates being unable to find jobs, housewives are sort of expected to pull back from the market somewhat, to leave as many jobs as possible open for regular 'breadwinners'. So anyway, the point is that we have a situation where there is a vast pool of extremely competent people sitting around with nothing to do. These women don't want a full-time job, as they have family responsibilities to cover. But if there were a job available that: made use of their 'handy' skills, allowed them to fix their own working schedule, allowed them to stay home when the kid is suddenly sick from school, paid them a reasonable amount per hour, and etc. etc. ... they would be very interested.
OK ... that's one side of the equation, but we're not talking about artificial paper flowers here, we're talking about woodblock printmaking, one of the most difficult and highly trained jobs on the planet. Right?
On the face of it, that is indeed true. My own skills are very hard-won, and when you look over my entire output, you have to admit that this is not something that a 'housewife' can sit down and just pick up in a few minutes.
Heh-heh ...
Here she is again: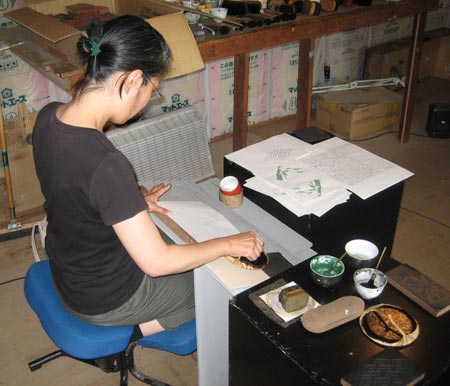 You can see scattered here and there among those two snapshots some small woodblocks (and there is a box of them on the desk just above her head). These are old blocks that I picked up in flea markets here and there. They were originally used to print kakegami, wrapping paper for Japanese gift confectionery. Here are a couple of images I just scooped with a Google search, showing modern papers of this type:

[Long item has been trimmed at this point. The full blog entry can be viewed here]