There is so much going on here just now, I don't know where to start with the updates ... Anyway, let's get this one done first!
Given that I want the Senshafuda prints to be published on a 3-month schedule - basically aligned with the seasons - one would expect that a 3-month 'start to finish' production period would suffice. Well it will, in theory, but we're still so new at this, and our production methods still so unsteady, that the only 'schedule' being considered at present is simply: keep moving forward, and hope we'll get it done 'in time'.
And 'in time' we're not. Here we are now in hot summer in Tokyo, and the next set of three is still on the drawing board!
Well, what can I say ... perhaps the 'hot' prints will help keep you warm in the chilly autumn air!
The production of each set of senshafuda always starts off the same way, with Seki-san and I chatting about possible ideas for the three, and she then goes off and begins sketching.
When I met her a few weeks back, she showed me some (very rough) pencil sketches - nothing more than scribbles really - for the first stab at it. She didn't leave them with me, so I can't show you here, but I can post the ones she sent a week or so later, still in very rough form, but fleshed out a bit more.
Before we look at them, remember the 'remit' that I have given her. The three designs in each set will include:
one strongly seasonal (although all three will certainly be related to the season)
one based on traditional Japanese culture
something based on contemporary life here in Japan
We saw this in the Spring set with 'Full Bloom', 'Doll Festival' and 'Sky Tree' respectively.
Here is the first batch (12 images) that arrived in my inbox a couple of weeks ago: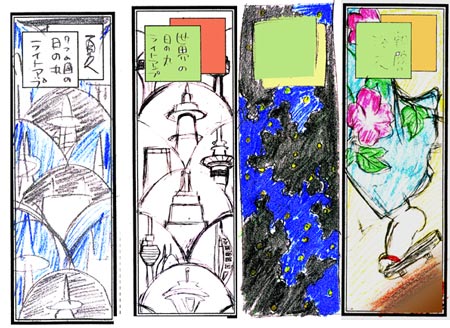 [Long item has been trimmed at this point. The full blog entry can be viewed here]