Sharri LaPierre wrote:
> So, here's my question: has anyone used gold hanga ink? (I'm sure David or Graham will have an answer to this one!) If so, what brand, where can I get it, etc. I have some gold metallic color - could I use that? What would I mix it with?

Sorry Sharri, I have not used a metallic gold pigment for printing. The best I can offer is gold mica powder liberally sprinkled in a colour that gives is glitter.... "and that ain't gold" as the prospector sez.

Cheers,
Graham

Sharri wrote:
> ... here's my question: has anyone used gold hanga ink? (I'm sure
> David or Graham will have an answer to this one!)
Not sure if this will be of any use, but there is a bit of info on my
site about using gold 'coloured' powders, etc.:
http://woodblock.com/encyclopedia/entries/012_13/012_13.html
I don't have any experience at all using gold 'inks' ...
Dave
Ooops, I meant to say that I have some gold metallic powder - and what
would I mix it with to use it with hanga?

Cheers ~
Sharri

Sharri, years ago in a woodblock workshop we used Gold ink straight from
the bottle and had no problem Worth a try.. Luma, a Steig product, made
Pearlescent Inks in gold and silver--lightfast watercolor, waterproof
Carol Lyons
Irvington

Digest Appendix
Postings made on [Baren] members' blogs
over the past 24 hours ...
Subject: Senshafuda Project - We have liftoff! (and ready for orders)
Posted by: Dave Bull
Ladieeeeeeeees and Gentlemen!
After ten weeks of planning and preparation (has it really been that long?), we have now successfully launched our little print series. Proofing with Tetsui-san yesterday was very successful, and we came up with what I think is a very nice set of prints.
You can see them on their order page here, where the blue 'Add to Cart' button is now active!

With just the two of us there this time, the proofing was definitely more peaceful. And with the basic concept sorted out from the previous session, our work this time was focussed on getting the colours adjusted so that they would work together, and sorting out some problems getting the impressions smooth (as usual, the wood is not what it 'should' be, and although there are no obvious defects in it (knots, etc.) there are places where the grain insisted on coming out in places we didn't want it).
Here are a few snapshots: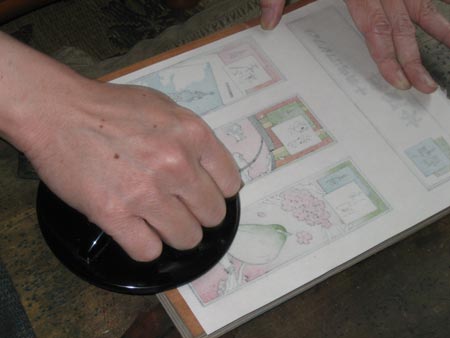 [Long item has been trimmed at this point. The full blog entry can be viewed here]
This item is taken from the blog Mokuhankan Conversations.
'Reply' to Baren about this item.
Subject: Not the Easter Bunny
Posted by: Andrew Stone

Proofing continues.

I managed to print 3-4 color variants of my still-unfinished, Year of the Rabbit card.
I have the yellow block pretty much squared in and registration was satisfactory, if not perfect. I need to work on the ring over the Right eye and there was some unwanted embossing of the paper where I hadn't cleared the block well enough.

There is still to trim back or shim the red block--the red jewel is a bit out of registration...and there is a little general clean up to do as well on the rabbit block and the keyblock.

But I still think I have to play with the colors a bit and I'd like the gold rings to be a bit more visible...I may try some metallic ink. I touched in some gold gouache with a small paintbrush and I liked the effect but would prefer to print it.
HOPE to try printing later this week.....
This item is taken from the blog Lacrime di Rospo.
'Reply' to Baren about this item.