This is a big welcome to all new Bareners.
I appreciate what I see, but admit to opening our e-mails randomly and
infrequently. Otherwise I may not even get to make the bed.

Thank you to Erin Nolan for her reaction to receiving the exchange prints.
That's what it's about.

Also it's good to put a real name to a message putting a face to it,
instead of signing with an initial. (Except for M. or D and other iconic
Bareners.)

Carol L.-- that is Lyons

I feel more than a little privileged to talk about printmaking at a time
when so many people around the world know not if they'll be alive tomorrow.
To those people, I apologize.

Exchange 47 made it into my hands today. I thank the artists for their hard
work and perseverance, and Maria for the extra hours she labored to put it
all together, not to mention the excellent colophon. Looking at all the
particular interests, talents, aesthetics and materials that each of us made
use of is daunting. Exchanges are and always will be a good way to support
and share our artwork.

Curiously, I find that what I'm really digging is this year's Lunar New Year
Exchange. Maybe it's the way these cool bunnies hop in one or two a week.
Maybe it's the fact that this particular creature has inspired our artistic
sensibilities to imagine such wonderful images. Maybe it's the diminutive
size or consistency of theme. I have a string to which I add them as they
arrive. Right now I have eleven. I hope they haven't stopped (like last
year!). Please, if your bunny is screaming to be heard, let the little guy
out of the basket.

Namaste,
Eileen


The San Antonio Baren Summit just got Better:
Sign up to join us, and make it even better!
Alex Prentiss of McClain's Printmaking Supplies is going to the Moku Hanga Conferences in Japan and will still be in Kyoto while the Baren Summit is going on, but Chris Harmon, who has worked there for over two years will come to sell supplies on Tuesday, in San Antonio. Alex says he's a really sweet guy, and will enjoy meeting everyone. Even if you don't buy anything, you will get to see some of the tools and supplies in person and learn more about them from Chris.

The Summits are one of the greatest bargains around for a grown-up art camp! We are providing a lot of the meals. etc for the $80 registration fee, and San Antonio is not a very expensive city. A great Mexican Dinner can cost as little as $9, without the wine or cerveza. Breakfast tacos as little as 99 cents from where the Summit is being held, you can get to anywhere in the city in 20 minutes by car. Because the airport is only 15 minutes from downtown, no one should have to take a taxi... we will just run over and pick you up!


New Bareners: the summit is open to everyone, don't worry if you are a beginner, and we promse you won't be bored if you are an expert.
Last summit in Portland, Viza just amazed everyone by tackling a large scale print right off the bat, and she has just kept on doing that.There is a nice La Quinta near the Summit location for only $59 a night, but we are working on seeing if we can get some good prices for rooms near the Riverwalk.

Digest Appendix
Postings made on [Baren] members' blogs
over the past 24 hours ...
Subject: Back to the Rivers
Posted by: Annie B
After about a month of work, I've finished the large commercial projects I had on my desk and have spent the past couple of days getting back into the new print I had started in February. First I printed the "rivers" block in a light blue.




Remember the knots that were in the board? Happily, I didn't have any problems printing because of them. But it turns out that McClain's found so many knots in their last batch of shina that they've run out of large boards and won't have a new shipment until next month. So I guess my decision to make this print using just one board was the only choice I really had!

Next, since I'm using just one block, I needed to get rid of the rivers so I carved them away.




Then I printed a yellowish brown tone on the background.


[Long item has been trimmed at this point. The full blog entry can be viewed here]
This item is taken from the blog woodblock dreams.
'Reply' to Baren about this item.
Subject: Senshafuda Project - Spring 2011 design ready
Posted by: Dave Bull
So, after all the delays due to one of the largest natural disasters in history - which kind of keeps things in perspective - the 'final' versions of the images arrived from designer Kaori Seki last night (at around 2 in the morning!), and I'm now able to put everything together.
Here's how the layout is going to work - three prints side by side, together with a fourth which will serve as the 'label' for the front of the package: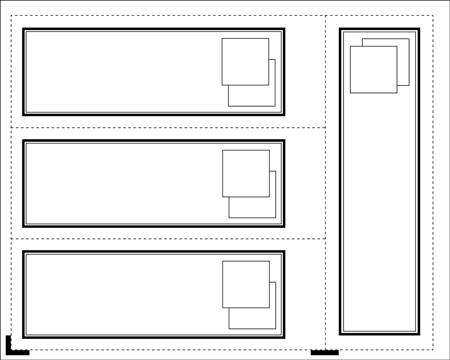 That image represents the piece of wood, and the outer dotted line will be the sheet of paper, nestled into the registration marks. Inner dotted lines show where the four prints will be trimmed apart after printing is complete.
So let's put the image parts in place (clickable):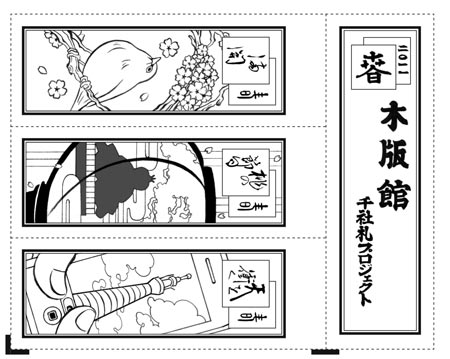 To save you having to twist your neck, here's an upright version: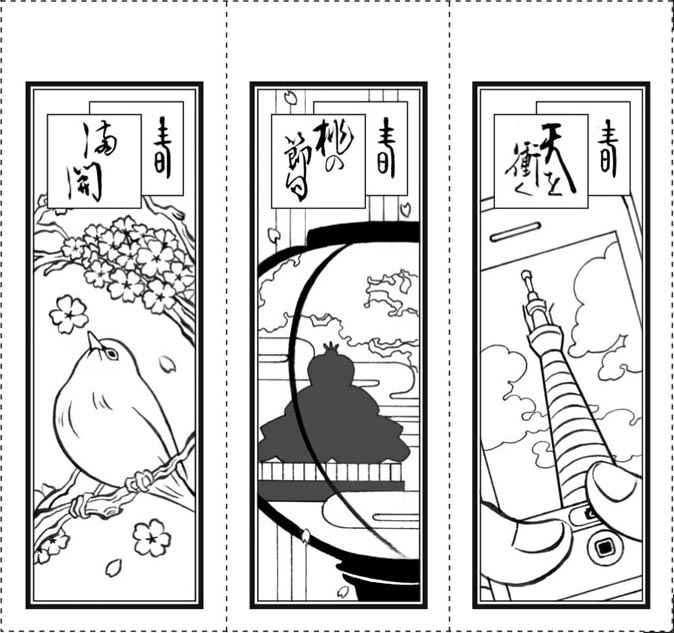 In a previous post, you saw how the SkyTree design evolved. We're sticking pretty close to what came out of those discussions, although that isn't perhaps apparent here, as many of the important lines of the design (notably the skeleton structure of the tower) will be on another block. But you get the idea ...
As for the other two, we have a simple image (borrowing heavily from the style of the old senshafuda) of a Mejiro (Japanese White-Eye) in a cherry tree, and a design playing with themes from the Girl's Day holiday: a decorative lantern, a doll on a stand, and another cherry tree. (Can't . . .
[Long item has been trimmed at this point. The full blog entry can be viewed here]
This item is taken from the blog Mokuhankan Conversations.
'Reply' to Baren about this item.