The surreal nature of daily life here in Japan has continued during the week - surreal because of the incredible contrast between what is on the news (natural destruction and nuclear dangers), and what one sees outside the door ... peaceful sunny days of quiet normal community life.
The only real impact on me here in Ome has been the electrical blackouts, with their associated transportation disruptions. There is a five-day schedule, in which we have a single three-hour blackout scheduled every day (the time varies each day), and two of them on two of the five days. But they don't actually happen every time; if the power company has enough reserve power as the moment approaches, the blackout is cancelled. It's all quite localized; Sadako-san lives only a few miles from me, yet she has had far fewer of them.
I wrote a little piece in the A Story A Week series about the blackouts the other day, and this little pair of photos shows my room at that time. Here's the scene: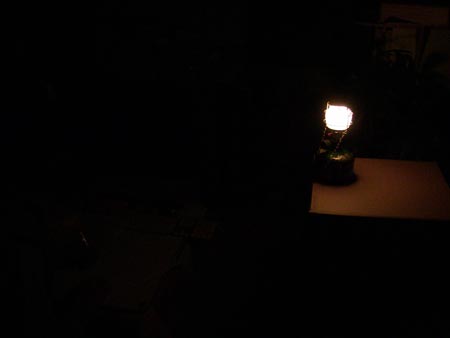 And again, this time with the camera flash turned on ...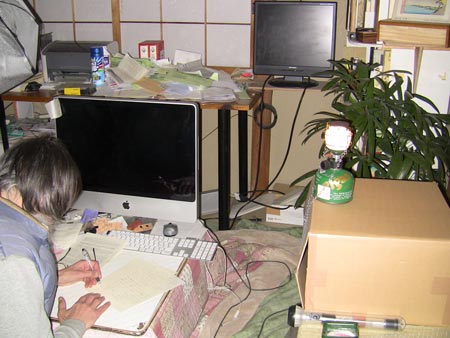 Despite the apparent darkness in the first photo, I was actually able to sit there and write, by the light of the lantern.

(entry continues here ...)