Julio or Dave,

Could you see why my blog is not being picked up? I've remembered to
put the right tags on the last one & had expected to see it yesterday
- but, it was still not in today's Digest. I hadn't been blogging for
a few months and I wonder if I had been dumped from the system. Well,
I'm back - and with a woodblock!

The address is: barebonesart.blogspot.com

I've been busily working on a woodblock for a local exhibition next
month entitled: Seven Deadly Sins. Mine is on greed and lies - the
gulf oil spill.

Welcome to all of the new members who have come aboard recently.

Keep printing!
Sharri

It's all safely behind me now, but I learned my lesson on preparing
drawings: I need to be done, done, done before I paste them to the blocks.
My final copies are nearly always on copier or printer paper and it's never
been a problem for me before. I always make lots of extras in case of
disaster. However, this time made some changes by hand on some extras,
hoping to trace them or otherwise transfer them onto the already pasted
versions. That's when I discovered that while the pasted drawings were
unchanged in height, they had all stretched by 1/16" in width, just enough
to make my extras useless.



I ended up drawing directly onto one of the pasted blocks, tracing the
changes, cutting out the tracing, and transferring to the other blocks by
tracing the cutout on them.



I also improvised some interpretations of the drawing, which had to be done
consistently from block to block. It was difficult to remember and
reproduce so many little decisions and I spent a lot of time going back and
forth between blocks, comparing by rolling back a face-down, marked-up
revised drawing to the area of immediate interest.



I've always felt too dependent on premeditation, but I think this is one
area where it sometimes pays off.

Digest Appendix
Postings made on [Baren] members' blogs
over the past 24 hours ...
Subject: Mystique Series #11 : printing steps 11~13
Posted by: Dave Bull
'Pop' we need, and pop is what we get! It's too bad that the pleasant under-colour has to disappear, but that's the way it goes! It will 'live on' in the added depth of this final kimono colour. This block also adds highlights to the yellow fish at left, and provides a total 'makeover' of the fish at the top: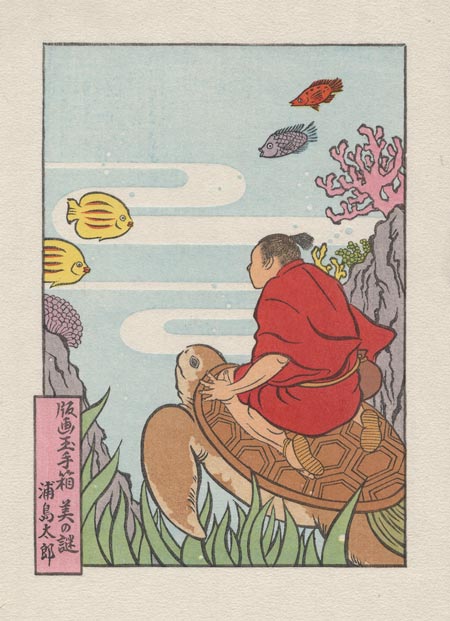 Next we have the third build-up on the turtle (one more to go):

(entry continues here ...)
This item is taken from the blog Woodblock RoundTable.
'Reply' to Baren about this item.