MWhat confusing bio data about Kirkpatrick!! born in Dublin
and Guernsey etc etc?! She must have attended the Central
Cool of Arts and Crafts towards the end of the 19th century
- I went there but never thought to learn the history of the
School - my father also was sent there early in the 20th
century - he was apprenticed to diamond setters at an early
age and some schooling was obligatory.......... I know this
has nothing to do with woodcuts nut it was/is a marvelous
school for printmaking and painting as well as many
trades......nothing is said re her actual technique - how
did she do the colours - wc or oily inks? was it
'moku-hanga'?? surely they weren't handcoloured..
Louise

www.lcassart.com


> I wonder what Ethel Kirkpatrick would have written about
> her date of birth? Was it 1869, or 1870 - since both are
> listed?
> More puzzling, however, was the discovery that those who
> say she was born in 1870 place her death in 1941 (making
> her 61 years old at death), while those who place her
> birth in 1869 state that she lived until 1966... " and
> outlived Lily (her sister) by 64 years!!! Hm
> mm..................................

While I like and support the idea of gathering and posting biographical
information on our fellow artists for posterity, I would suggest caution on
just how much private information and details are provided on our living
members or their family. In this age of nefarious computer users and
identity thieves, one could easily cross the line and leave ourselves open
to vulnerabilities. "Let's be careful out there,."

Kim
Nine Mile Falls, WA

Digest Appendix
Postings made on [Baren] members' blogs
over the past 24 hours ...
Subject: Mystique Series #9 : shipping day ...
Posted by: Dave Bull
I haven't been very good at keeping up with the updates on the Mystique progress ... too busy with the Gift Print season. But that finally seems to be slowing down now that we're past the post office mailing deadlines for Xmas.
Work on this one has been continuing all the way along though, and here's the result of two separate 'batches' of printing - a stack of 200+ copies of #9, a design by Yoshitoshi:
This month my 'helper lady' Ichikawa-san is tied up with family business, so I'll be doing the packing and shipping myself. Let's see if I remember how ...
The first few steps I do myself every month anyway. The process starts with putting my 'studio embossment' on each print. I use this little 'machine' to do that job: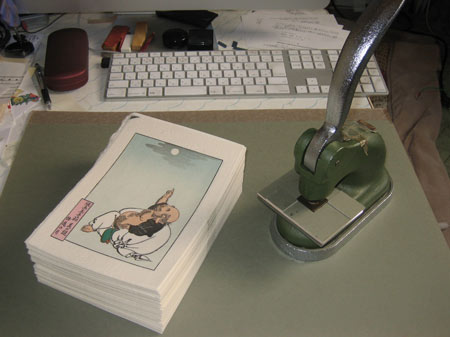 The part that makes the embossment is a slug of copper, engraved with my baren mark. Not visible in the photo is the 'male' counterpart that is pressed down from above:

[Long item has been trimmed at this point. The full blog entry can be viewed here]
This item is taken from the blog Woodblock RoundTable.
'Reply' to Baren about this item.
Subject: The Green Line
Posted by: Annie B


Last week I finished carving the Islamic pattern for the Palestinian territories and also the "Green Line." The Green Line, so called because green ink was used when it was first marked on a map, refers to the lines of demarcation that were agreed upon in the 1949 Armistice between Israel and its neighbors after the 1948 Arab-Israeli War. The Green Line is not a definitive and legal international border, but in practice it defines those areas which are administered by the State of Israel and those which are administered by the Israeli military or the Palestinian National Authority.

The area I've focused on in this print is a portion of the West Bank where Israeli settlement incursions have penetrated deeply into lands east of the Green Line. Because these settlements consume land where a Palestinian state could emerge, they have made it extremely difficult for a two-state peace solution between Israel and Palestine to be achieved. The settlements also antagonize Israel's Arab neighbors and erode some of the support Israel receives from United States. But perhaps most importantly, some argue that the settlements are a real threat to Israel's democracy because they set up an untenable situation where Jews who live east of the Green Line in the West Bank are voting citizens of Israel while Palestinians living in the same land are not. Human Rights Watch has just published a report . . .
[Long item has been trimmed at this point. The full blog entry can be viewed here]
This item is taken from the blog woodblock dreams.
'Reply' to Baren about this item.