It's been a long time since I've been able to announce one of these, but can now tell you that I have just published another in the 'Classics of Woodblock Printmaking' series of eBooks.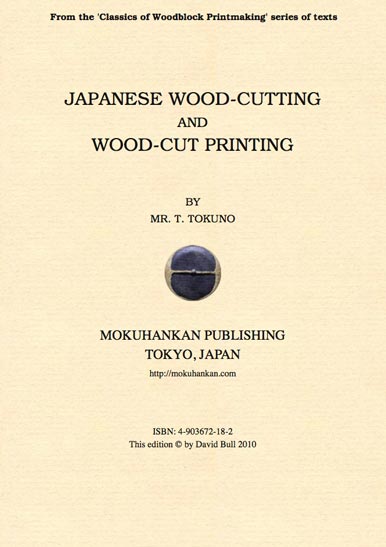 This is the fourth in the series, after previous volumes by Hiroshi Yoshida, Frank Morley-Fletcher, and John Platt.
The 'new' one is a freshly edited version of the original book published in 1894 by the US National Museum, based on source material provided by Mr. T. Tokuno in Japan.
Here's a quick quote from the introduction: "The Japanese government of the day made a gift to the U.S. National Museum of a complete set of printmaking equipment, including carving and printing tools, pigments, blocks, paper samples - everything involved in the process of making prints. In addition to the materials themselves, illustrated written descriptions of many aspects of the craft were included, and this pamphlet is a detailed summary of those descriptions."
The eBook is now available as an 'instant' download from my Mokuhankan shop, at $5 - information here. Note that the full text still remains in my online library, where it can be - of course - read at no cost. The only reasons you might want to purchase this are: to have your own 'copy' always handy, to have it in a properly formatted and readable layout, and ... to help support what goes on around here!
Thanks also, to collector Mr. Dale Evans, for . . .
[Long item has been trimmed at this point. The full blog entry can be viewed here]