Hello...My name is Rick Niemetz and I have been a fan of the woodcut/wood
engraving for as long as I can remember. I am an avid book collector and I
really love to find books containing woodblock prints. I am especially a fan of
Fritz Eichenberg and Otto Nuckel.

I recently took a stab at this medium with decent results and now I am hooked!
I am trying to soak up every bit of info I can as I tend to be very anal about
everything I do. I joined the forum to learn more about the medium and the
tools of the trade as well as to get some inspiration from the work on your
site.

I have a question to pose to the group...I have used a stereo boom microscope
for electronics work (soldering/repair of circuit boards), and I am very
comfortable working under the scope. I have the opportunity to pick up the
same type of microscope for a great deal, but I was wondering if it would be
practical for this type of work. The scope I am looking at has an 8" working
range and a wide field of view, so there is plenty of room to work under it and
you can see a large portion of the block (or all of it if it is a small one).

I have tried working under a magnifying glass, but it just doesn't seem
sufficient for me for the fine details...Has anyone utilized a microscope to
create woodblock prints? Or can anyone shed some light on this for me? Is it
practical?

Thanks so much for your time. I am looking forward to absorbing everything I
can from the site and the talented artists whose work graces its pages.


Best Regards,

Rick Niemetz
San Anselmo, CA

> I have a question to pose to the group...I have used a stereo boom
> microscope for electronics work (soldering/repair of circuit boards),
> and I am very comfortable working under the scope. I have the
> opportunity to pick up the same type of microscope for a great deal,
> but I was wondering if it would be practical for this type of work.

Rick, I have one of these - a Meiji EMZ model. I originally bought it
for inspection purposes - checking paper fibres, sharpened tool edges,
etc. - but now also use it for some of the more delicate carving jobs.
It took a while to get used to, but once you learn how to look 'down
into it', it's very comfortable to work with.

As I get older, this is probably going to become a permanent companion!

Dave

Digest Appendix
Postings made on [Baren] members' blogs
over the past 24 hours ...
Subject: Mystique Series - #7 - printing finished
Posted by: Dave Bull
So here we are, as planned, the final two impressions.
Not sure if this next one will actually be very visible here - it's a 2nd cover of the greenish tone at the top of the persimmon. The first one wasn't deep enough, so we'll give it a bit more: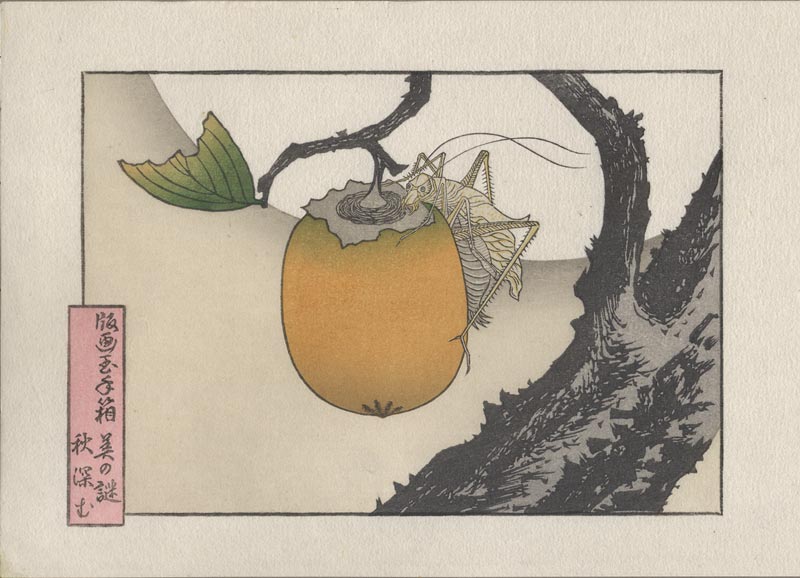 And that's it for the image itself. All that's left is the outer karazuri embossing: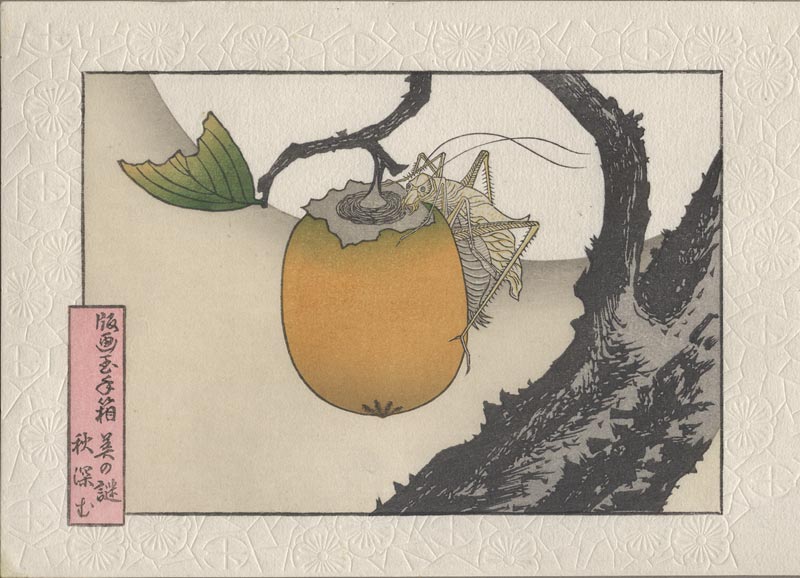 Note that what you see here isn't what will actually be shipped - the print will be trimmed on all four sides, as well as having the baren embossment applied down in the lower right corner.
And now to get the backboards printed with the print name and # etc., the get the story sheets printed, and then get it ready for pickup by Ichikawa-san, the lady who handles my wrapping and shipping.
This item is taken from the blog Woodblock RoundTable.
'Reply' to Baren about this item.