Wonderful program Mr. David Bull. BTW are you the David Bull
mentioned on the program called Between the Folds? I just watched
that on Netflix. Another fascinating film. It's about paper folding.

When I was a sign painter, I one time stepped on a client's freshly
painted floor and then back onto their newly installed carpet. The
best thing, I think is to call in the professionals as quickly as
possible. It worked for me. Good luck.

C. Chapel

Addition to website October 6
www.carolchapel.com

Dave, What a wonderful presentation!
Thanks so much for sharing it with us. You continue to enlighten and teach us in many ways.

I am preparing to present a Moku Hanga demonstration at the Mid America Print Council Conference in Minneapolis later this week, so if anyone is nearby, drop in and chat! (I plan to talk up your eBook/CD as well)

I hope to wear an apron with one of your quotes in your honor:

"If you like doing something,
isn't it better if it takes a long time?"

Dave Bull,
originator of barenforum.org

Please know that you are inspiring many.

Preston Lawing

> ... BTW are you the David Bull mentioned on the program called
> Between the Folds? I just watched that on Netflix. Another
> fascinating film. It's about paper folding.

??

I have no connection with them at all, sorry. Did they perhaps talk
about woodblock printmaking in some connection with washi paper, or
Japan? No idea ...

> I hope to wear an apron with one of your quotes in your honor:
>
> "If you like doing something,
> isn't it better if it takes a long time?"

Now maybe that's something we should get made up and put into the
Baren Mall ... I'd be the first in line to order one!

Thanks!

Dave

Digest Appendix
Postings made on [Baren] members' blogs
over the past 24 hours ...
Subject: Mystique Series - #7 - printing stages 13~14
Posted by: Dave Bull
I thought that I might make the cartouche background a different colour this time - maybe pick up a tone from the persimmon, but decided not to, as I think that would pull attention away from the main image. So we'll go with the 'standard' pale red: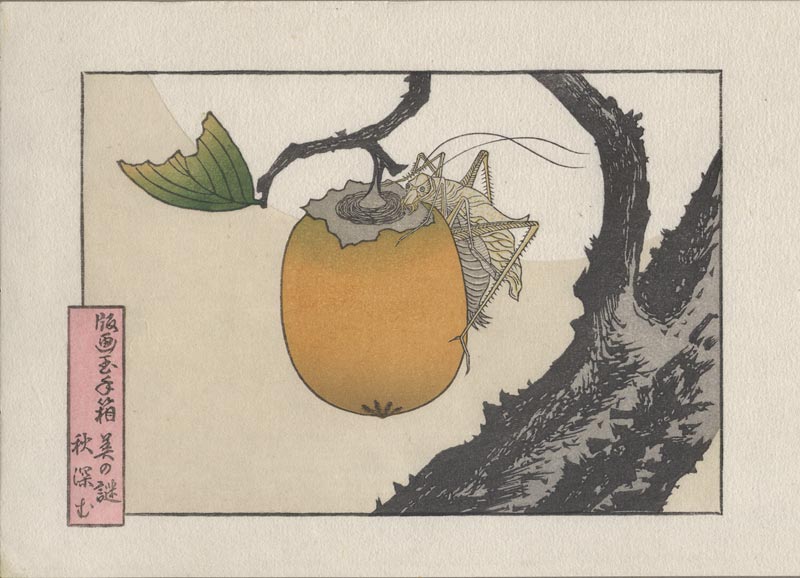 And with the open sky being such a light colour, we need something at the edge of it to offset the moon. A nice curved gradation should fill the bill: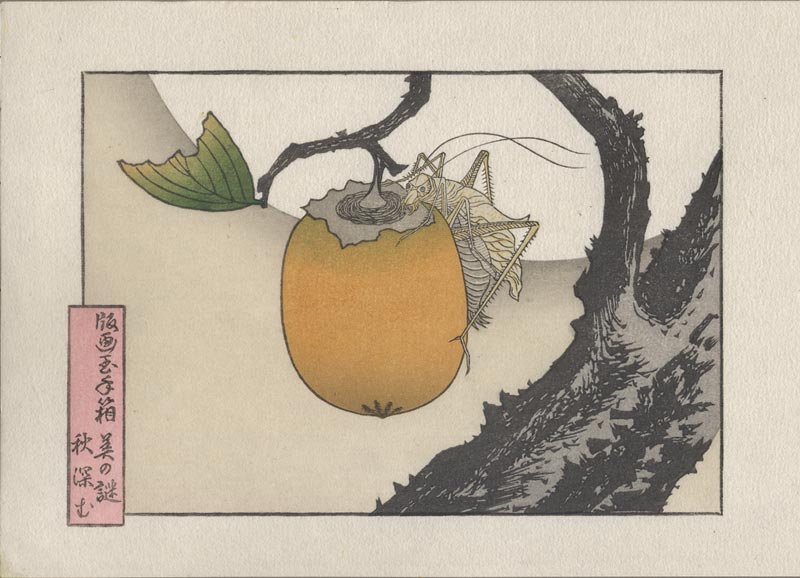 I think two more should do it; I might be able to get those done tonight, but if not, then it'll be tomorrow morning - which will mean this batch of 120 sheets (with two prints side-by-side) will have taken exactly one week, start to finish. (Eight days if I count the paper sizing step ...)
This item is taken from the blog Woodblock RoundTable.
'Reply' to Baren about this item.
Subject: Woodblock Printmaker David Bull on NHK
Posted by: Annie B

I first encountered moku hanga in 2005 through a three-day workshop with New Hampshire printmaker Matt Brown, a workshop that was life-changing for me. However, I actually owe an even larger amount of my knowledge about moku hanga to a woodblock printmaker I've never met, Japan-based Canadian printmaker David Bull. NHK, Japan's public television network, has just produced a 30-minute segment about the life and work of this accomplished printmaker, so I thought I would take advantage of the occasion to write about David on my blog. David's 30-year love affair with this artistic medium has literally been the scaffolding upon which my own learning has taken place.


How is that possible? First of all, the computer makes it possible. In 1997, David launched the Baren Forum listserv and accompanying web site. The Forum began as a way for isolated woodblock artists and craftsmen around the world to compare notes, learn from each other, and talk shop. In the 13 years since it began, the site has become the go-to place on the internet for English-speaking Japanese woodblock artists, an absolute treasure-trove of information for anyone who is interested in exploring the medium outside of Japan. Although David handed over the reins of the Baren Forum site to a team of volunteer administrators several years ago, the site would not exist and would not be so comprehensive without his influence and expertise. I've learned 90% of what I know about woodblock printing through trial-and-error combined with strategic searching and question-asking on the Baren Forum web site.

This item is taken from the blog woodblock dreams.
'Reply' to Baren about this item.
Subject: Two Weeks to Go!
Posted by: Ellen Shipley
Two weeks to go until our studio art show. ;-] Working on my e-mailing list now. Just going thru my address book and making a couple groups. I'm sure there'll be some duplicates, as my address book is very haphazard. Hopefully people will let me know so I can remove the dupes. I plan to use blind carbon copy in any case.
Of course I should be framing up some more woodcuts. Oh well, they're not going to frame themselves. ;->
This item is taken from the blog Pressing-Issues.
'Reply' to Baren about this item.