Whole bunch of things are cooking this week, so it's another 'grab-bag' update ...
First, I've had a bunch of emails asking about the Playboy story. I wonder why! I have to tell you up front that this is nothing to do with typical 'Playboy' material. As I mentioned, they do a regular feature grabbing a few people who do a particular job, and put their 'data' up so that readers who are considering that field as a career can get a bit of an inside look at it.
Anyway, it's done, and the data for seven of us was published in the magazine yesterday. A scan is on this page of the Woodblock Shimbun section of the website. As it turned out, I am the oldest of the seven; the others are doing 'chalk art', 'spray art', acryl, and western painting. The lady directly above me on the page bills herself as being an 'Artist for Eros and Peace', which I guess might explain why this magazine chose her ...
Moving right along ... :-)
The Summer issue of the Hyakunin Issho newsletter is now online: [English] [Japanese].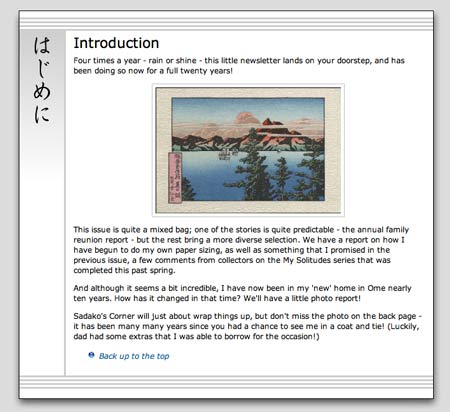 It includes a story on the recent sizing experiments, and that leads me to the next item in this update ... the NHK project.
The producer was over here again today for another planning session. This is good news, as I have learned that the more time we spend in planning, obviously the better the finished program will be. But it . . .
[Long item has been trimmed at this point. The full blog entry can be viewed here]