After the non-committal results from yesterday's 'strip' test, I tried something a bit different today. After the half-dozen sheets from the sizing run were dried, I cut some pieces from each one and headed down to the workshop to make a real test - using some of my blocks to make actual prints, not simply test strips.
This was much more enlightening. We can dispense right away with the kind of comment I heard yesterday - about how good I am at this. This is very poorly sized paper!
It was apparent right away, as I started moistening the blank pieces before printing. Parts of each sheet took up the moisture far too rapidly, while others areas were more like what I am used to. Even after letting them sit under cover for a couple of hours to even out, they refused to do so. It seems as though there are areas that are almost 'unsized', and those places just suck up the water far too much.
I waited until it seemed to have reached a basic stability, then made a run of half-dozen copies of one of the little Gift Prints I have: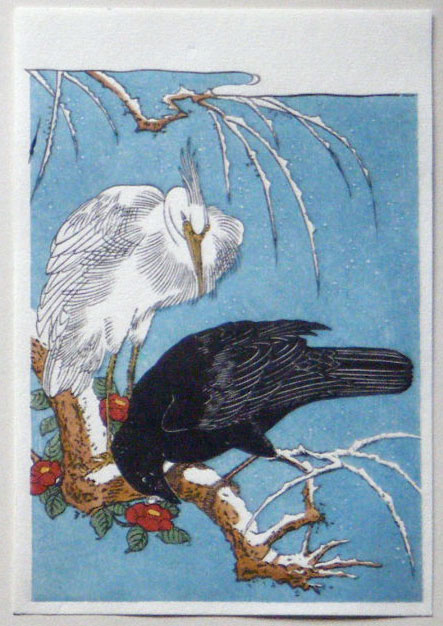 And here we have another surprise ... Even though the paper was clearly not 'good', the resulting prints came out just fine. And after they were dry it was impossible to find the areas that had been causing problems with moisture absorption.
So ... I guess I can see where this is going. . . .
[Long item has been trimmed at this point. The full blog entry can be viewed here]