Today's postings
[Baren 41721] new barens offered (April Vollmer)
[Baren 41722] Re: On the hunt for Woodtype (Julio.Rodriguez # walgreens.com)
[Baren 41723] Baren Member blogs: Update Notification (Blog Manager)
Dave and Maria, thank you very much for the information on the new barens!

It is great to have you both talk about which barens are best, it is a very useful conversation! I have an 8 strand hon baren, and a coarser coil, wood-backed baren that is about 10 years old. Then website link is great to see the various coils. My big problem is re-covering them, I need to practice!!

And I wanted to thank Barbara and Michelle for their work on Baren Mall, which is such a great resource. McClain's is the most accessible, and helpful by phone for Americans, so I send students there first...but for special papers and barens, it is great to have a Japanese source. Since they are shipping from Japan, it doesn't make sense to order small quantities anyway, I have no problem with a minimum order.

April
www.aprilvollmer.com

I am looking for some old woodtype....you know, letters, numbers, etc..
from the old days of letterpress....any size....the bigger the better !!!

If you have some you want to donate to a worthy cause and a good home, or
just simply get rid of ( I'l pay for the shipping) email me off list.

If you want to sell please contact me with price, size and font type if
possible....

thanks....Julio

Digest Appendix
Postings made on [Baren] members' blogs
over the past 24 hours ...
Subject: Size matters - the first test batch!
Posted by: Dave Bull
After all the preparation, it was finally time today to give my new sizing 'system' its first test!
I spent most of the afternoon at it, and I can tell you - this is not an easy job! Not that I thought it would be, but it has nonetheless made me realize that this is going to need a lot of practice to pull off properly. After all, I'm trying to make the jump from 'zero' to 'professionally acceptable' all in one go ...
Anyway, I did indeed take a lot of photos as I went along (with my camera's self-timer), but instead of putting them here on the RoundTable, where they will soon disappear into the untraceable maze, never to surface again, I thought it would make more sense to put them in a 'Sizing Process' page over in my Encyclopedia.
So please jump over there and have a look: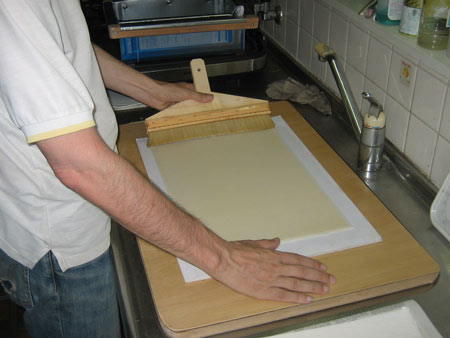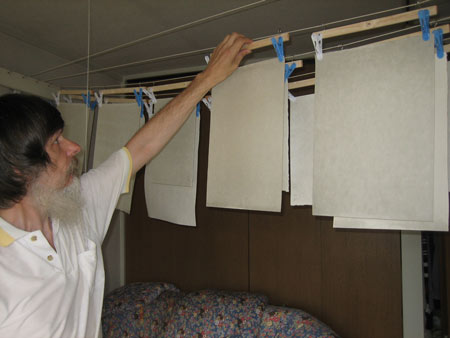 This item is taken from the blog Woodblock RoundTable.
'Reply' to Baren about this item.