So a few days ago we saw a photo of a few dozen boxes being readied for the Japan-based collectors, today it was the turn of the overseas people!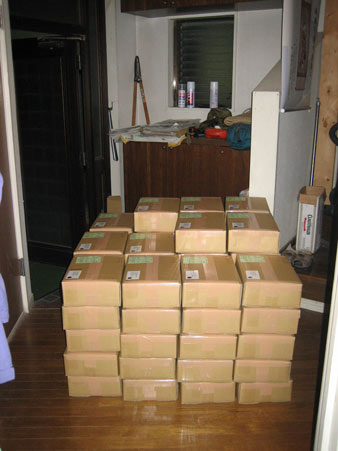 It took me most of the weekend to get these ready. The packages are pretty much the same as those for shipping within Japan, but with the addition of some corner reinforcements inside the box.
Where are they going? Most of them to the US - 47. Then 6 to the UK, 5 to Canada, 2 each to Holland and France, and one each to Australia, Spain and Belgium.
At the end of the previous post a couple of days ago I mentioned that it was going to be difficult to scrape the money together to pay the postage for these, but that situation has resolved. A couple of people made payment for some overdue invoices, somebody paid in advance for the next few prints, and one of the most supportive collectors in the US ordered a couple of other print sets, all helping to put things on the level for this month.
It feels so good to get these finally shipped. For most of this year so far, I have been neglecting the main tenet of anybody who makes a living by making things - if you don't ship, you're dead. That final print in the My Solitudes series was delayed more than a month through the combined tardiness of both myself and Ichikawa-san (the lady who did the book production for that series), and then of course getting the new series up and running took somewhat more time than I had anticipated, what with all the various issues that came up along the way.
So with a nearly three-month gap with nothing going out the door, of course things have become tight. But now that prints are finally moving, the next few months should be a time of gradually chewing through the thick stack of unpaid bills, and getting back to normal (whatever 'normal' is).
I'm still under very severe time pressure, and will be for a while yet. I have to print the second batch of this pair, which will take around a week, and immediately following that I have to select, carve, and print the second pair (#3 #4). That has to be done immediately because our family is having its annual get-together in June this year (the date . . .
[Long item has been trimmed at this point. The full blog entry can be viewed here]