Time for an (overdue) update on what's going on around here!
Spring has sprung here at the Seseragi Studio ... beautiful warm sunny spring days one after the other!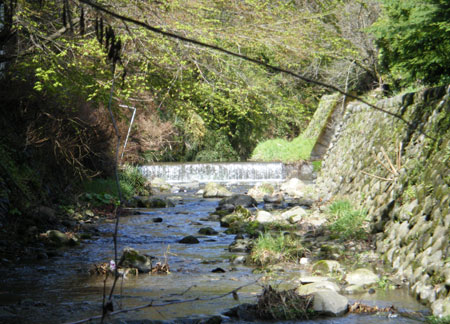 The exhibition closed a week ago. Collector Doi-san came over just before closing time, and the two of us got everything off the walls and into boxes ready for the Rent-a-Truck guy to take away, managing to finish just a few minutes in front of the 5:30 deadline. (The next exhibitor was waiting outside to come in and begin his setup, just as I had been waiting a week before ...)
How was the show? Mixed. (Again.)
Many of the Tokyo-based collectors came by for a visit, and I spent lots of time chatting with them and getting reacquainted. (There's a 'story' about that here.)
Although I had sent out hundreds of media packs, there had been no response at all, and without any TV/radio/newpaper/magazine coverage of the show, 'new' visitors were thin on the ground. As this gallery opens out onto the street, I had been very interested to see what kind of 'walk in' business there would be, but there was actually very little. Passers-by ... passed by! (There's a 'story' about that here!)
There were orders though, mostly from current collectors telling me 'OK, I'm in!', as well as a few previous collectors 'coming back for more'. Current collector count is now 93, within striking distance of the 'making a living' level. And as there is a small but steady stream of back issues of other print sets still going out, I'll be OK.
Cash is insanely tight just now though. What with paying for the gallery, the trucking, printing, promotion, etc., not to mention the huge bill for the cases for the Mystique series (that alone is over $5,000 ...), there isn't much breathing room. But I'll chew away at the unpaid bills bit by bit over the next few months, and by somewhere around mid-summer I should be back 'even' again ...
**
Plenty of emails and phone calls recently along the lines of "You said 'early April' for the start of this series, so where is the first print?"
Well, it's still on the blocks! As you saw in the previous post here on the RoundTable, I began the printing just as soon as I got cleaned up after the exhibition, and it has been moving forward every day, bit by . . .
[Long item has been trimmed at this point. The full blog entry can be viewed here]