Today's postings
[Baren 38714] Re: New Baren Digest (HTML) V47 #4792 (Apr 22, 2009) (Marilynn Smith)
[Baren 38715] Other than woodblock entries in blogs (Gayle Wohlken)
[Baren 38716] Baren Member blogs: Update Notification (Blog Manager)
Nice painting Patricia. I thought we could only share printmaking on
the blog??? Not that I am complaining, I enjoyed seeing the work. I
would have sent in my two recent watercolors if I thought I could??

Marilynn

Marilynn, we have been encouraged to post only woodcut related
material in our blog listings for Baren. Since people often do other
than woodcut art, Julio and Dave had asked some months ago that we tag
our blog entries with words like "woodcut" "woodblock" "moku hanga",
etc. so that they could show up on the list, and if tagged otherwise,
they wouldn't be. People probably have not been tagging their
individual blog posts and that's why these unrelated to woodblock are
showing.

Gayle

Digest Appendix
Postings made on [Baren] members' blogs
over the past 24 hours ...
Subject: [River in Spring - 4] : Printing begins ...
Posted by: Dave Bull
Continued from [River in Spring - 3] | Starting point of the thread is [River in Spring - 1]

It's been two weeks since we saw the image of the first block done, and today we'll get to see how it looks on paper. There aren't all that many blocks for this print - I have eight done now, and that might be all we need. It shouldn't have taken two weeks to get them done, but as usual, there were interruptions. I had a pleasant day of hiking near Kamakura with one of the collectors who lives overseas, but who was in Japan on business, and then NHK stole another couple of days from me earlier this week. (The result of that one won't be appearing on this website ... I don't think too many of the readers here would be interested in meeting Gabby, who came out here for a short visit ...)
Anyway, printing began this morning - with that same block, which did eventually end up becoming a legitimate 'key block'.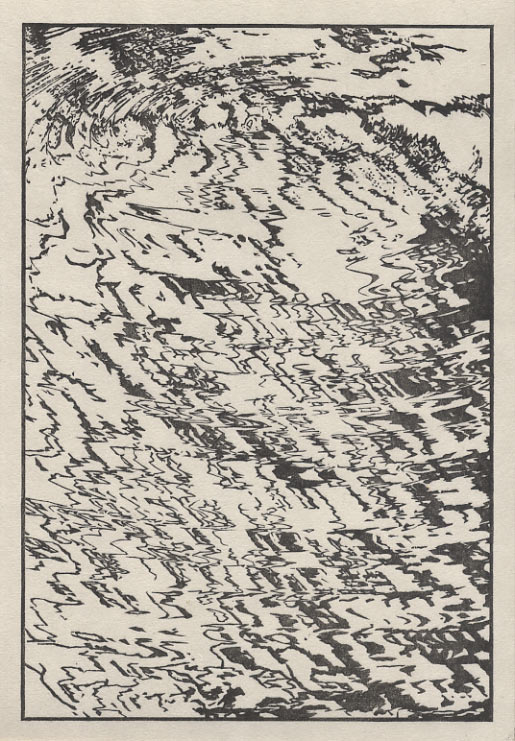 And there is obviously no more mystery about the design. It's clearly visible ... I hope!
This item is taken from the blog Woodblock RoundTable.
'Reply' to Baren about this item.
Subject: Dorothy May Final
Posted by: Annie B


DOROTHY BRADFORD COMES TO AMERICA

Japanese woodblock (moku hanga)
Paper size: 9.5" x 22" (24 x 55.9 cm)
Image size: 8" x 20" (20.3 x 50.8 cm)
7 shina plywood blocks
15 hand-rubbed impressions
Paper: Echizen Kozo
Edition: 30

As is true about most women of the colonial period, we know very little about Dorothy May Bradford. Born in Cambridge England in about 1597, she married 23-year-old William Bradford when she was 16 and moved with him to Leiden, Holland. They had a son John a few years later, a son who they left behind when they boarded the Mayflower for America in 1620.

The Mayflower anchored off Provincetown Harbor on November 11, and several expeditions of men set out to seek a place to build their Colony. William Bradford never wrote about Dorothy's death, but Cotton Mather noted that while William was away on one of these explorations, on 7 December 1620, Dorothy accidentally fell off the Mayflower into the freezing waters of Provincetown Harbor and drowned.

Some historians have speculated that Dorothy committed suicide. We will never know, but we do know that she had many reasons to despair -- she was separated from her infant son, winter was upon them, they were confined to the ship even though land was tantalizingly near, there was a constant fear of the unknown including the Indian presence, and the passengers were . . .
[Long item has been trimmed at this point. The full blog entry can be viewed here]
This item is taken from the blog Woodblock Dreams.
'Reply' to Baren about this item.