Theme is My Window, any interpretation is valid.
Sign up is now open!
http://www.barenforum.org/exchange/exchange_sign-up.html
Maria
O=O=O=O=O=O=O=O=O=O=O=O=O
       Maria Arango  
http://1000woodcuts.com
http://artfestivalguide.info
 O=O=O=O=O=O=O=O=O=O=O=O=O
Dear Members of the Baren 40 Exchange,

We have had one member drop out because of ill health, so there will only be twenty-nine participants in this exchange. If you have not already mailed your prints, please send thirty prints instead of thirty-one. If you have already mailed your prints, I will send you back the extra in your exchange packet.

There are now twenty-one days left for Exchange 40, and it has been three days since I celebrated my thirty-fifth wedding anniversary!

If you have the opportunity, go to Yosemite in the next week. The lupine and California Red Bud trees are now in full bloom and they line the road leading into the valley. If you can't get there this year, keep April fifth to April tenth in mind for an even more spectacular visit to one of the most spectacular places on earth. The weather is changeable, so be prepared. One day it will be Spring and shirt-sleeve weather, and the next day there could be a snow storm. Yosemite is incredible whatever the weather, and if you are prepared for snow, and it does snow, you will have all of Yosemite practically to yourselves. Glorious!

I now have my next long-term project. I plan to use my digital pictures to use as subject matter for block prints, and I have enough pictures to last me for at least a year of carving. I might even make some prints containing multiple colors for the first time.

So, happy carving and happy printing. It's Spring, and as e.e. cummings said, the world IS mudlucious and the little, lame balloonman is whistling farandwee! T.S. Eliot didn't know what he was talking about. April isn't the cruelest month. Lilacs aren't breeding out of a dead land. Instead it is Chaucer who has it right. Flowers are springing up out of the soft showers of April, and it is time to go on pilgrimages and recreate ourselves. Our pilgrimages do not need to be to far off lands. We can each take our own pilgrimage to our studios and workshops where we can create and recreate our own worlds of wonder and beauty.


Robert Simola, Ph.D.
Craftsman, gardener, grape grower, Chaucer collector,
. . . and retired teacher

Digest Appendix
Postings made on [Baren] members' blogs
over the past 24 hours ...
Subject: [River in Spring - 3] : Key block finished
Posted by: Dave Bull
Continued from [River in Spring - 2] | Starting point of the thread is [River in Spring - 1]

Despite plenty of interruptions over the past week, the key block is now done. As I mentioned before, it's not a 'key block' in the traditional sense of having outlines that will be 'filled in' with colour later, but it will still be the one to which the others will be keyed once printing begins.
Here's a quick scan, just after carving was done, but before I washed it: (clickable)
And here it is after washing: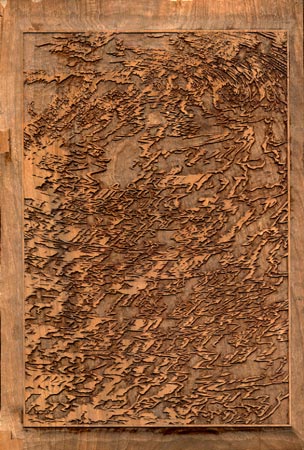 So, I think that by having a close look at this, you should be able to get an idea of the 'concept' behind this image, no?
This item is taken from the blog Woodblock RoundTable.
'Reply' to Baren about this item.
Subject: Florence
Posted by: JennifersCabin


[Long item has been trimmed at this point. The full blog entry can be viewed here]
This item is taken from the blog Jennifer Martindale.
'Reply' to Baren about this item.